Friday night kicked off (again, nearly on schedule!) with Kurschatten, a new-ish postpunk four-piece act from Germany. Recorded, they produce a pleasant if nothing-to-write-home about postpunk sound and the set didn't start off too special, but somewhere not far in, it got really interesting. A group of us discussed what made it special afterwards – partly it was that there are two vocalists who play off each other nicely. But what really sets them apart is the drums – almost all snare and tom, the sound was really distinctive. Catchy tunes and a band clearly having fun on stage helped. My surprise of the weekend.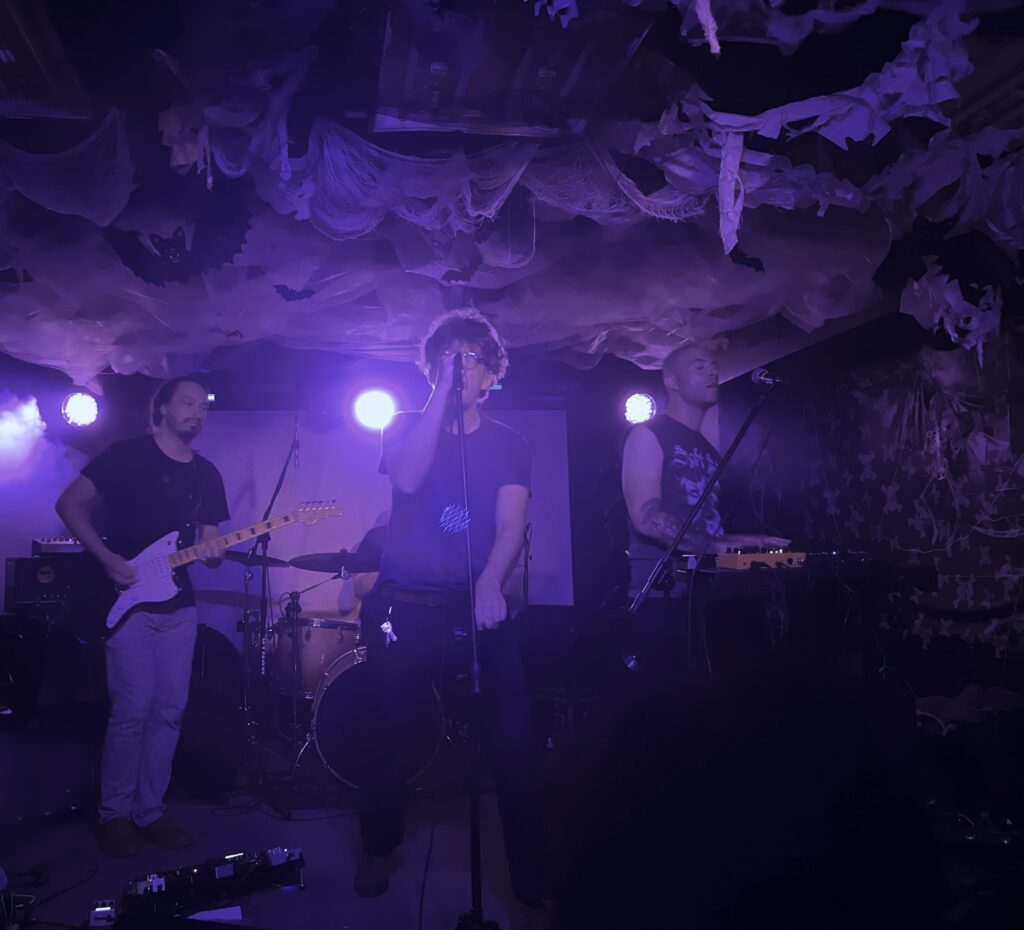 I ran out of time to do my due diligence, so I went in to Endora Y Sus Vicios cold. They have a female drummer, which is always guaranteed to grab my attention. Feminist horror punk from Spain – a completely frenetic and insane performance. The mosh pit was fearsome – I think it was during their set that my big toe was pogo'd on. There was too much mayhem to have my camera out.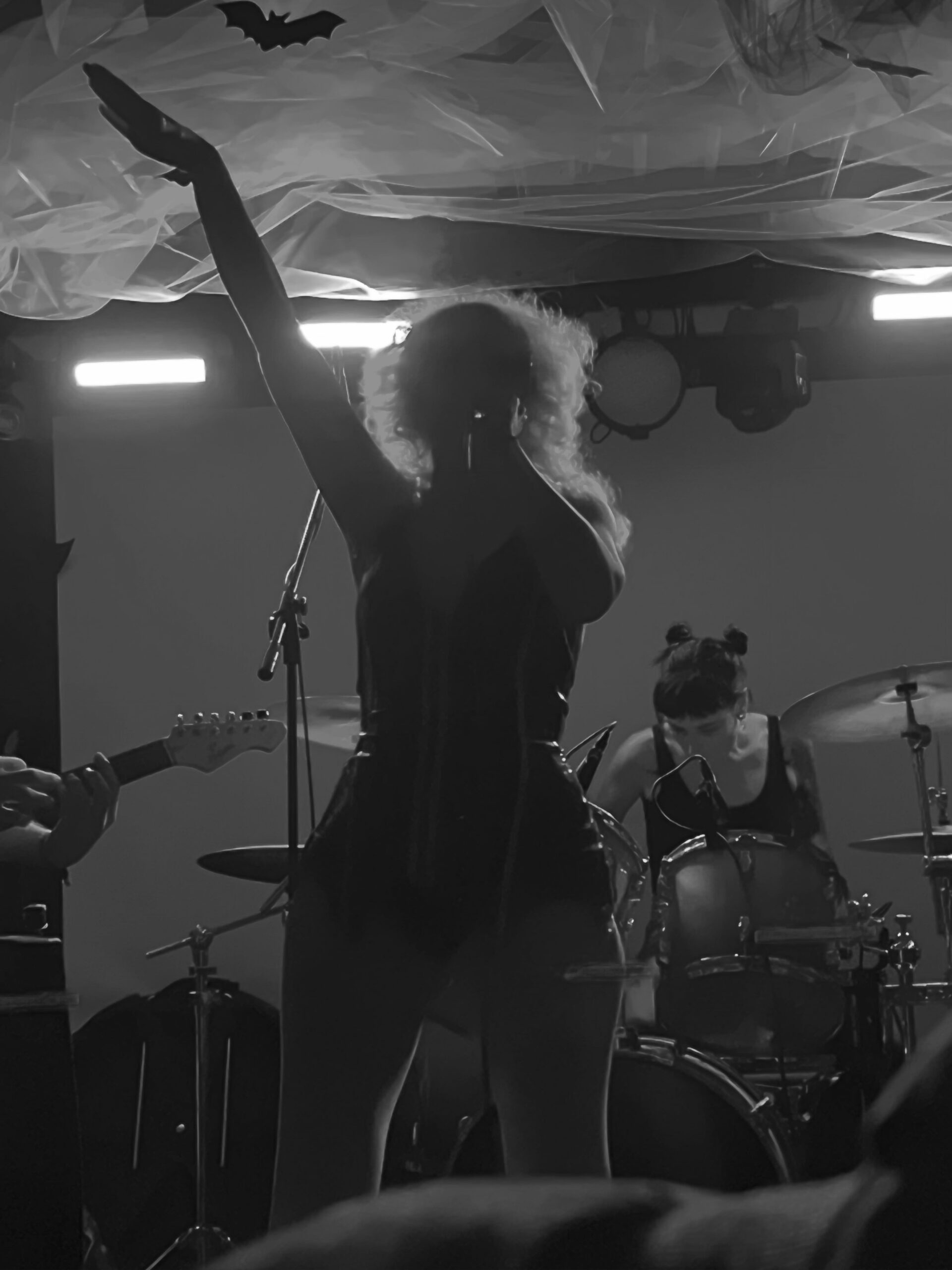 The band I was most looking forward to on Friday ngiht was The Cemetary Girlz. They're a more-(Rozz era) Christian Dean-than-Christian Death deathrock group from France and exactly my thing, and I was really excited to finally see them live. I was not disappointed. Visually they're amazing (I got a little too excited by the coffin-shaped guitar case). The set went by way too quickly as most of their songs are over five minutes long. For reasons I find it difficult to pinoint I found it unexpectedly emotional and I had to go away and process that for a while afterwards. I think it was finding something that is so exactly my aesthetic both musically and visually. If I lived closer to the Eurostar I'd see them in France on a regular basis.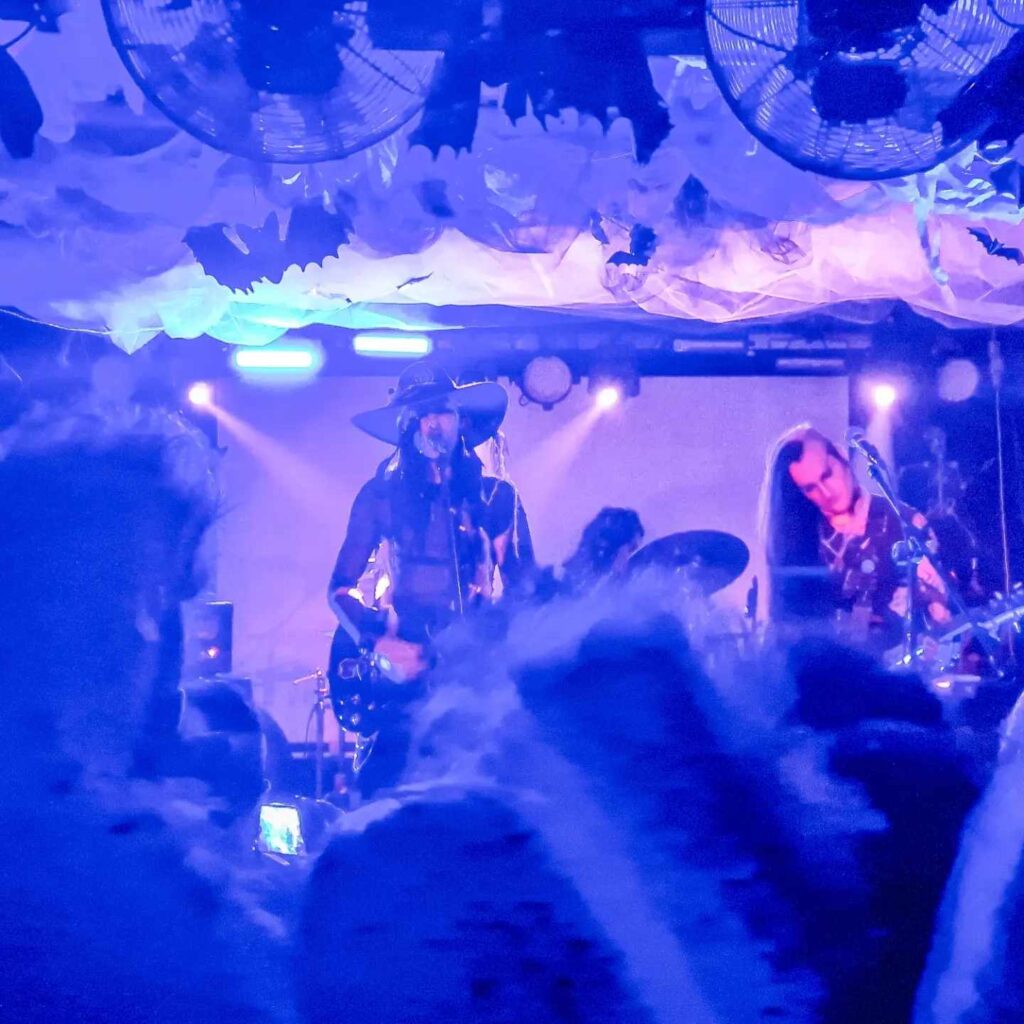 When there's more than four bands on the bill on a night, something has to give, and tonight it was Cataphiles – they were the only band on this year's roster I've already seen , and recently (at Gothic Pogo Party in Leipzig). I knew they'd be great fun but I needed to eat and sit down. Their music is on the punky end of the deathrock spectrum (but with synth!) with a little Tragic Black thrown in for good measure. I made it in to catch the last three songs of their set from the back – their energetic performance had the crowd going wild.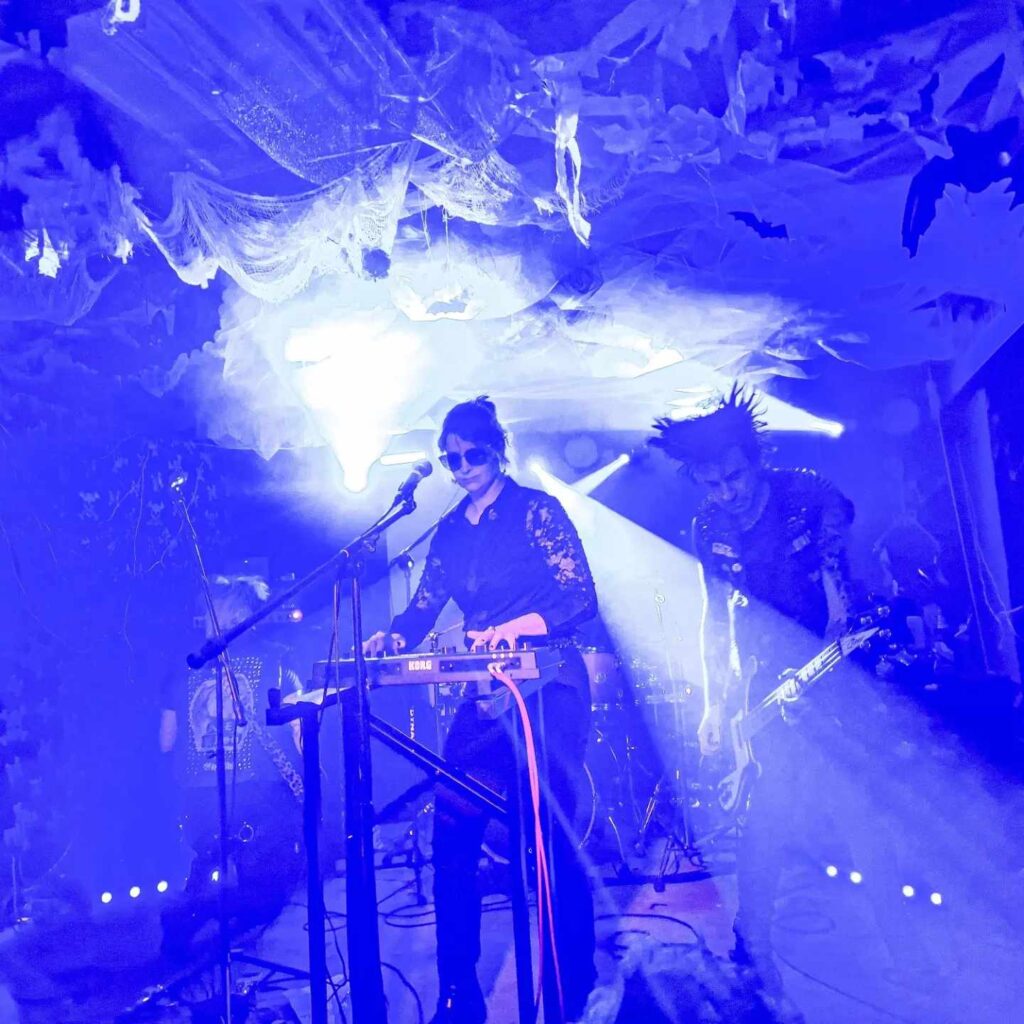 Bohémien have been around since 1985 but I'd never heard of them before (I know! It happens) Hailing from Italy and singing in Italian, they serve up an uncomplicated deathrock sound. At this point "the usual suspects" at the front found ourselves surrounded by a sea of Italians. The live show really sets them apart and demonstrates why they have such a devoted following – the singer is incredibly charismatic and visually the performance has a New Romantic feel. I will definitely see them again, and probably listen to their music at home too.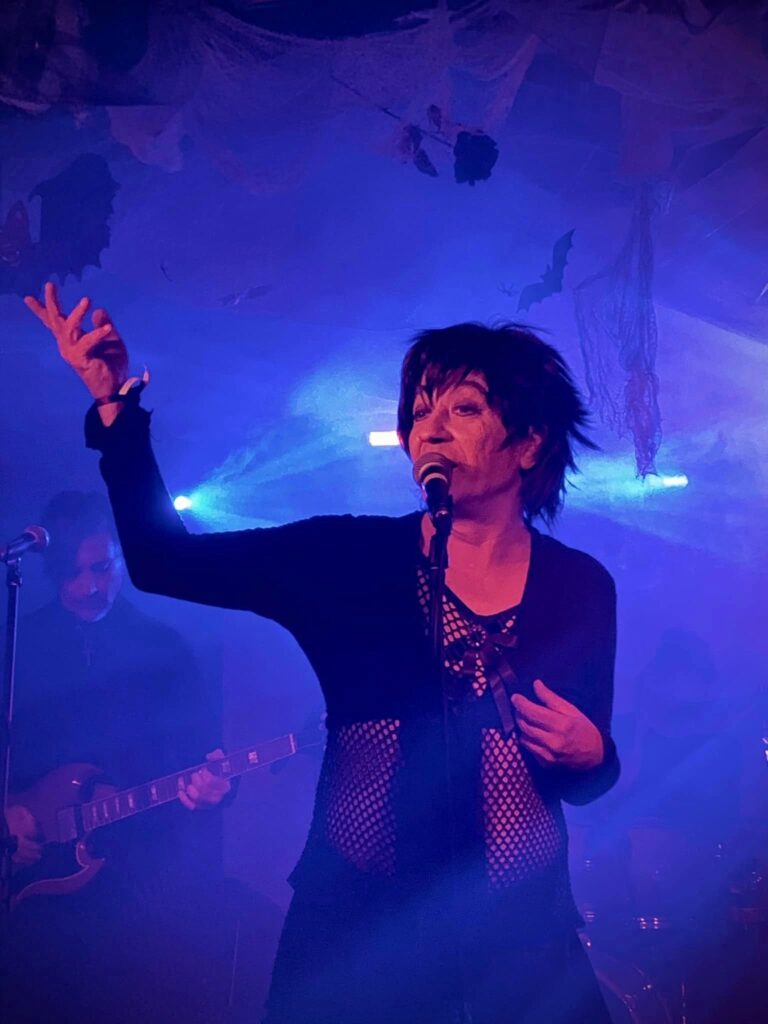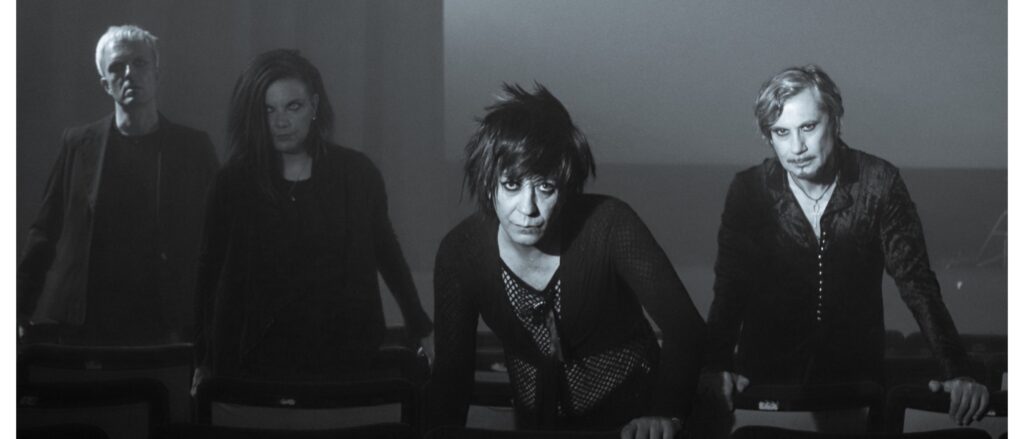 A lineup like tonight's inspires me to get off my backside and start putting on bands in the UK, because I think they'd all go down a treat here.
As usual the live music portion of the evening was followed by dancing and talking rubbish till dawn.