Finally! In the best tradition of Return to the Batcave, we are running behind schedule tonight! Unfortunately I'd been plagued by the worst bout of insomnia I'd had in a long time all weekend so it was going to be touch and go as to whether I'd stay upright for all the bands. Fortunately the quality of all the performances made this easy. Unfortunately being slightly dead I wasn't often in my usual place in the front row so I took even fewer photos than usual.
The evening kicked off with the debut performance of Marie Laveau, a group of young people from Warsaw. They had a tremendous amount of hype behind them for a brand new band who had so far only released a rehearsal video. I was amongst those with very high expectations on the basis that Mike Raatt, formerly of Eat My Teeth, plays bass with them now – he had a strong stage presence already a year ago.
They utterly shattered those expectations. We were collectiely blown away. Musically they are not doing a lot that is new yet – serving up catchy as hell tunes from the punky side of deathrock. But they're already a cohesive unit with a completely spot-on look. They successfully pulled off a cover of Spiritual Cramp (a near-sacred song in the deathrock pantheon) – no mean feat!
It's not often the opening band of the night are made to do an encore before they're allowed to leave the stage, but that's exactly what happened.
One to watch – these kids are going places! If this gig turns into a Sex Pistols at the Lesser Free Trade Hall phenomenon, this post will be evidence I was actually there.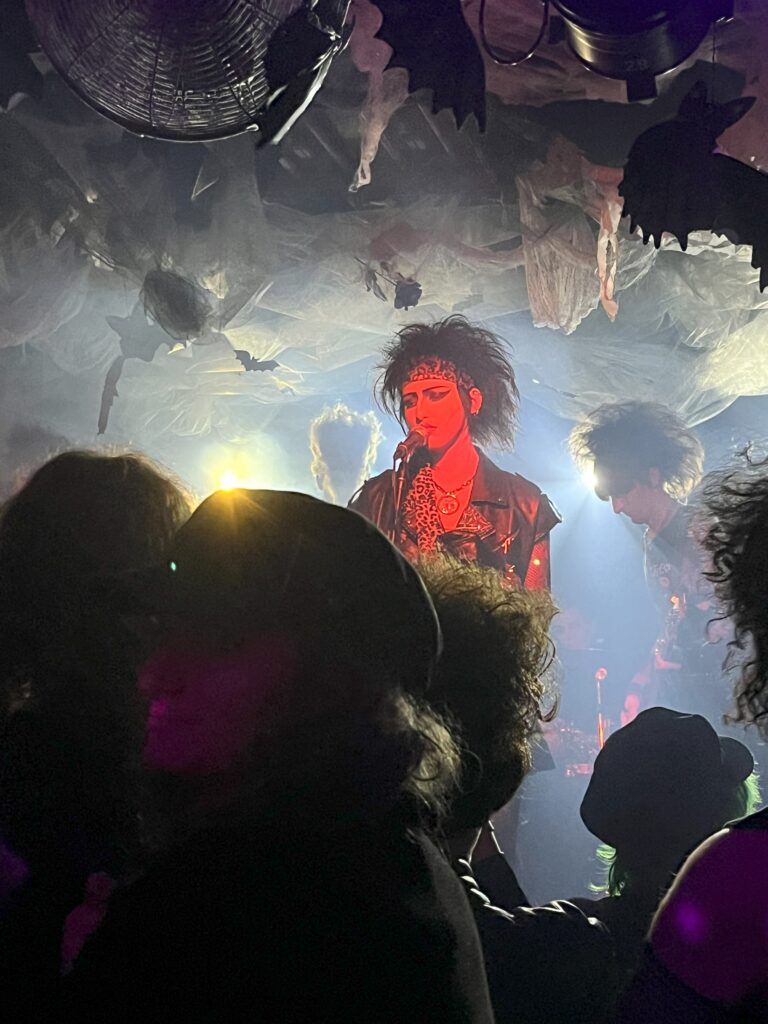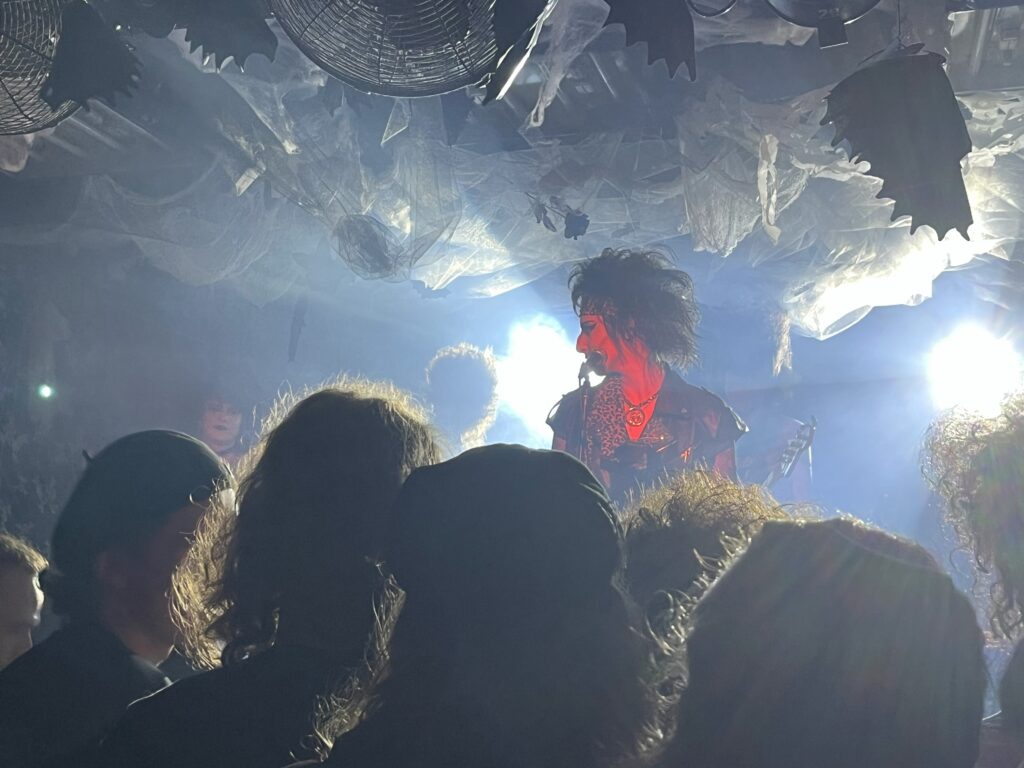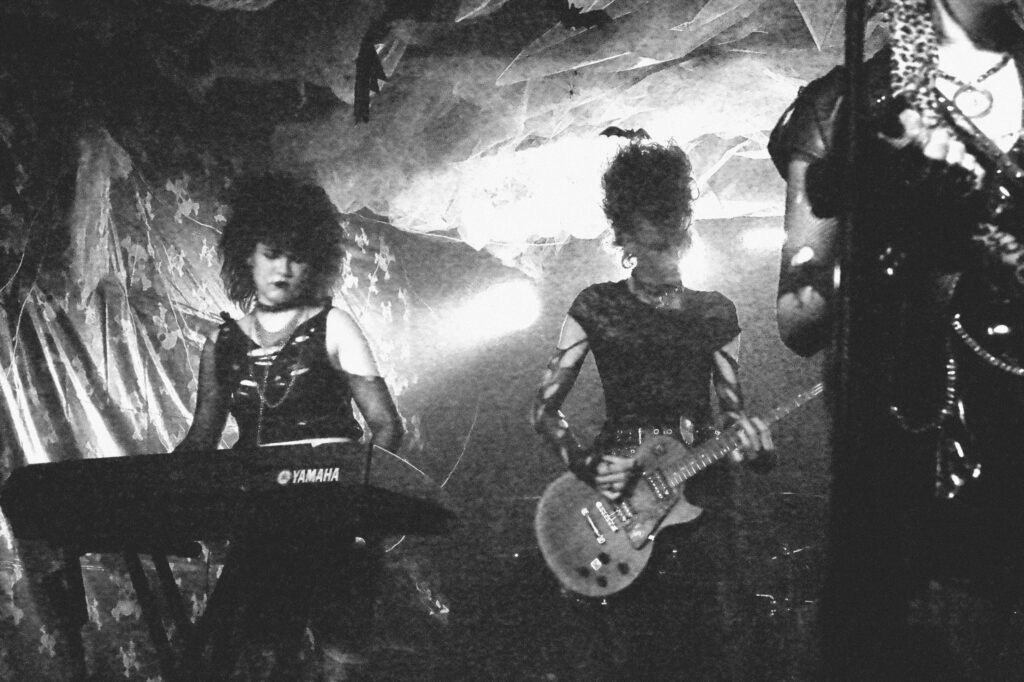 Next up was a change of tempo with Belgrado. The week before the festival I tried to listen to their new album. It didn't do much for me, but I was willing to be convinced.
And convinced I was. What a show! The singer Patrycja has a singularly commanding stage presence – the costume, the moves – very stylized with a pantomime influence – some performing from the floor – the audience went wild and loved every moment of it. This is a band I might not listen to at home, but will take every opportunity I can to see in the future.
(I have since been played parts of their first album and I like it more than the new one so I might be lying about not listening to them at home).
The middle act for tonight are Nürnberg from Belarus. They were one of my early lockdown discoveries. I ordered Skryvaj on CD from Sierpien records (Russia) in 2020. It got held up in the post for a month, possibly bringing me to the notice of the security services. Back when that was sort of amusing. I absolutely adore that album – like many of my lockdown discoveries I'm not sure whether it's that good or I'm emotionally invested in it for other reasons.
Still, I wasn't expecting just how emotional I'd find the performance. Technically it's just two guys playing guitar and bass with the synths and drums on backing track playing lovely post-Soviet postpunk tunes in which I can't even understand the lyrics (my limited knowledge of Polish helps less with them than with some other Slavic-language bands). But is was a heart-stopping, gut-wrenching experience from start to finish. Even the standard banter I have with a friend for Eastern European lyrics we can't understand (if it's up-tempo, "this must be devastating"; if it's slow "this must be the cheerful one") didn't stop me being nearly in tears.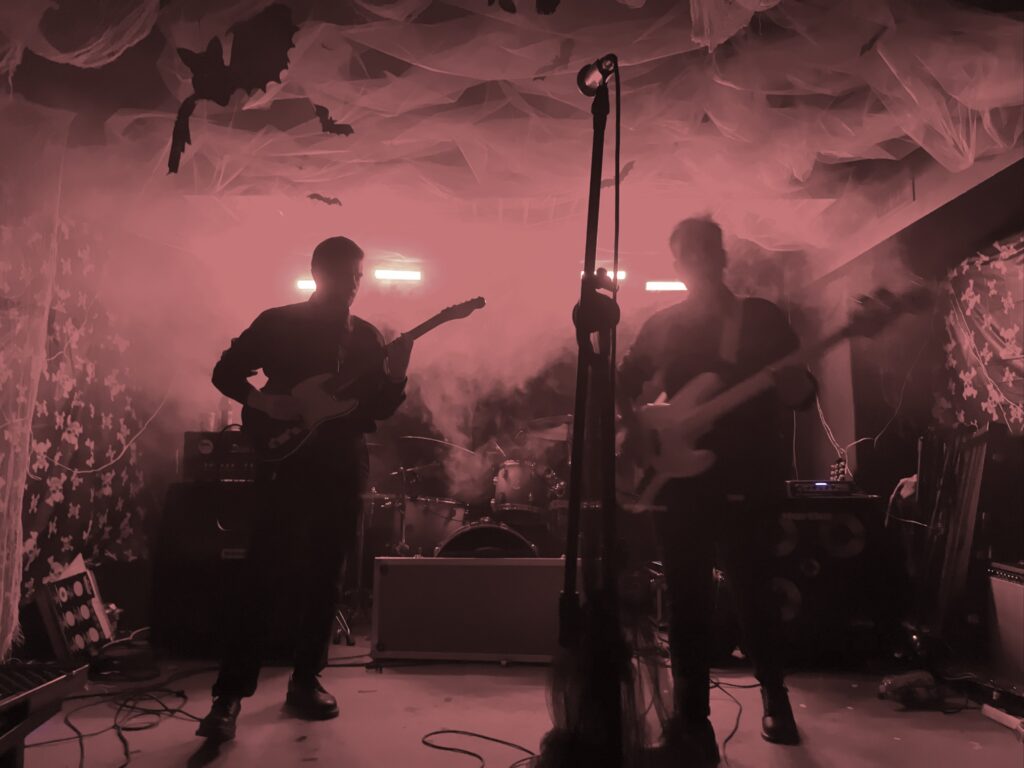 A lesson I learned the hard way folloiwng Ploho's performance at Wave Gotic Treffen this year is that when I'm that emotionally wrung out I shouldn't stick around for the next band. But as it turns out, I cared almost as much about the next act tonight and I'd have kicked myself if I ran away, but I still approached The Foreign Resort's set with some trepidation. They were another lockdown discovery, but apart from She Is Lost, they have no tunes that mean a great deal to me. Still, I've been wanting to see them since 2020.
I was glad I stuck around – it was a change of pace – they rocked out, were a good deal of fun, and I love the classy move they pulled by wearing Nürnberg's t-shirt. They got She is Lost out of the way early on so there were no emotional minefields to worry about, and was able to get on with mindlessly bouncing around.
Except that this is the point at which some dude (and it's always a man) came up and really roughly shoved me out of the way.
Oh sweetie. I was an immovable object when I was half this size. I got my spot back but he kept pulling my hair. If had been at any situation that was less of a loved-up atmosphere than RTTB I would have ended him on the spot.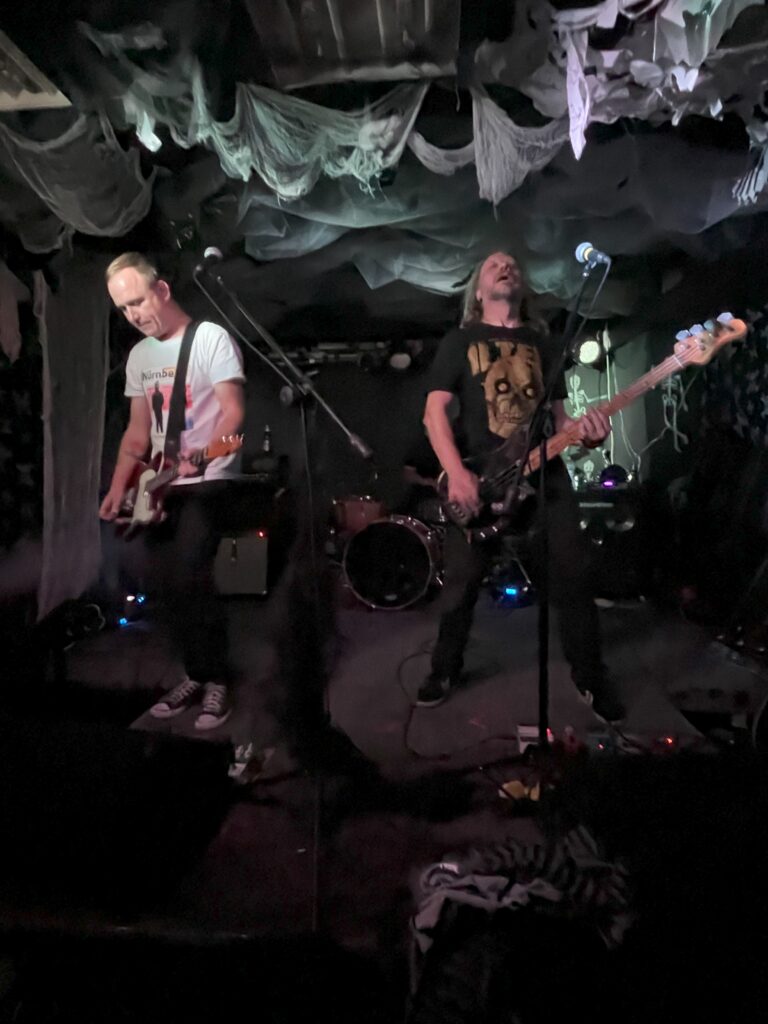 Looking at their pedigree and discography, I wondered how have I never heard of The Snake Corps. They're a UK band closely associated with Sad Lovers and Giants who have been playing exactly my kind of gothy dreampop since 1984! <Reads Wikipedia entry> Ah. They were big in Europe and signed to a label there and had less exposure at home.
Once again, The Usual Suspects were joined at the front by a bunch of people we hadn't seen previously at the festival, so The Snake Corps another band with a dedicated following. (And the guitarist's Polish family, apparently).
Another set that was pure joy. Just lovely tunes, performed with presence and charisma. There was more that was familiar than I expected – they did a couple of Sad Lovers and Giants songs, including my (and everyone's) favourite, Things We Never Did, and it turns out I knew more than a few of the Snake Corps tunes too.
I was seriously flagging by the time they took the stage and meant to only stay for a song or two but ended up bouncing along gleefully through the whole set.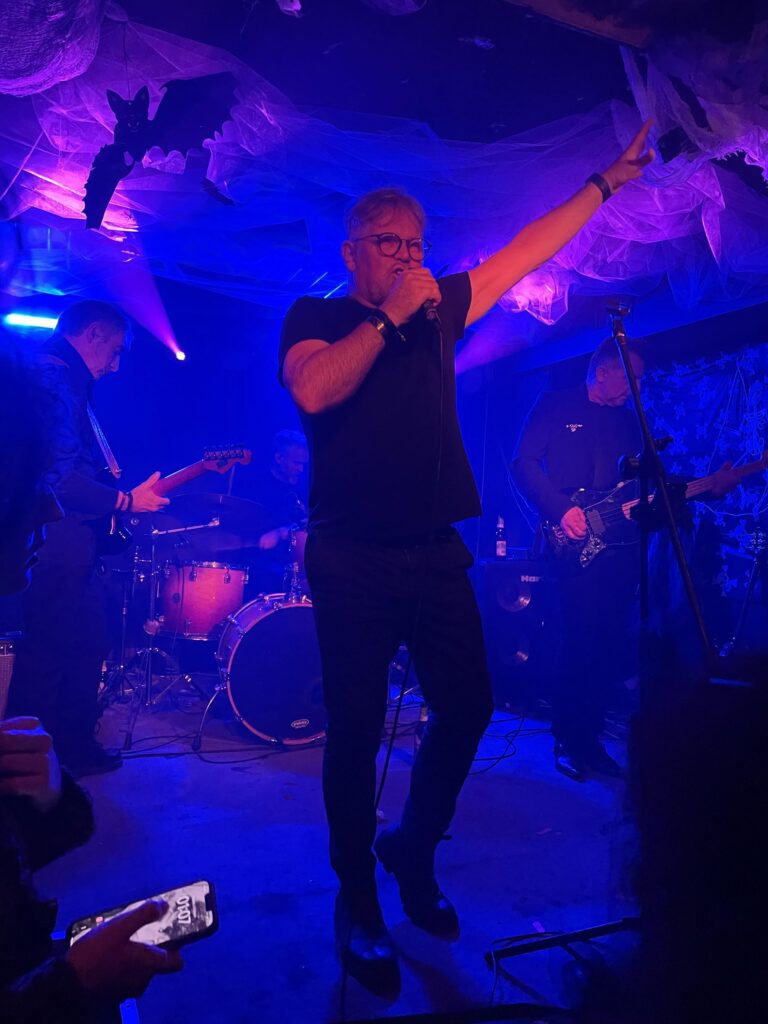 And so, the live music portion of another Return to the Batcave having come to an end, everone else danced till dawn, but I'm afraid I crawled to my batcave, took a mountain of painkillers and tried to sleep as I had a long coach trip to Warsaw the next day for my next adventure.
So how was the featival this year, going in with Expectations? Less emotionally devastating than last year with all the Ukrainian bands (and generally hanging out with Ukrainians). Still 100% my favourite festival and my home. Why yes, I have my ticket for next year (buy yours here) and my hotel room booked.
See you next year bats!