BLED with Finlay Shakespeare and VRGF – The Crofters Rights, Bristol – 21-09-2023
Thursday evening saw me making my way up to the Crofters Rights for an all-Bristol lineup in celebration of BLED's freshly released EP, The Way of All Flesh.
VRGF's Bandcamp mini bio reads "VRGF is a UK based artist producing ethereal songs and visual content that resides in a world of bliss and euphoria. Their practice centres around exploring topics such as technology, love, and yearning", so I went in thinking this could go one of two ways.
Fortunately it went the good way. They dish up an ethereal, R&B, cyber blend with a visual element which fits together very well. (Goths of a certain age, think late-period Switchblade Symphony.) The set was sweet and touching (I appear to be wearing my sentimental-old-lady hat today) and I enjoyed it very much.
I'm told they play around town regularly and I will definitely check them out again.
This was my third time seeing Finlay Shakespeare, and he keeps getting better. It's great to see a musician grow into their craft and find their stage persona. The first time I was not convinced (all the songs were good but didn't hang together well), the second time was a more coherent show, and this week's performance was non-stop bounce-along techno synthwave bangers. I eagerly await to see where he goes from here, and if there's any justice in this world these tunes will be filling dance floors everywhere soon.
I saw BLED earlier in the year as a support act and liked their performance and material very much. This Brutal Place is featured on one of my Mixcloud/Spotify playlists and I listen to it a lot. So it was a no-brainer that I turned up for their EP launch party.
Unencumbered by the headline band's equipment, the show was even more fun than the last time. The singer is incredibly lively – much jumping around the stage, performing from the crowd, moshing with the crowd, lying down on the floor in the crowd, balancing on a chair, etc.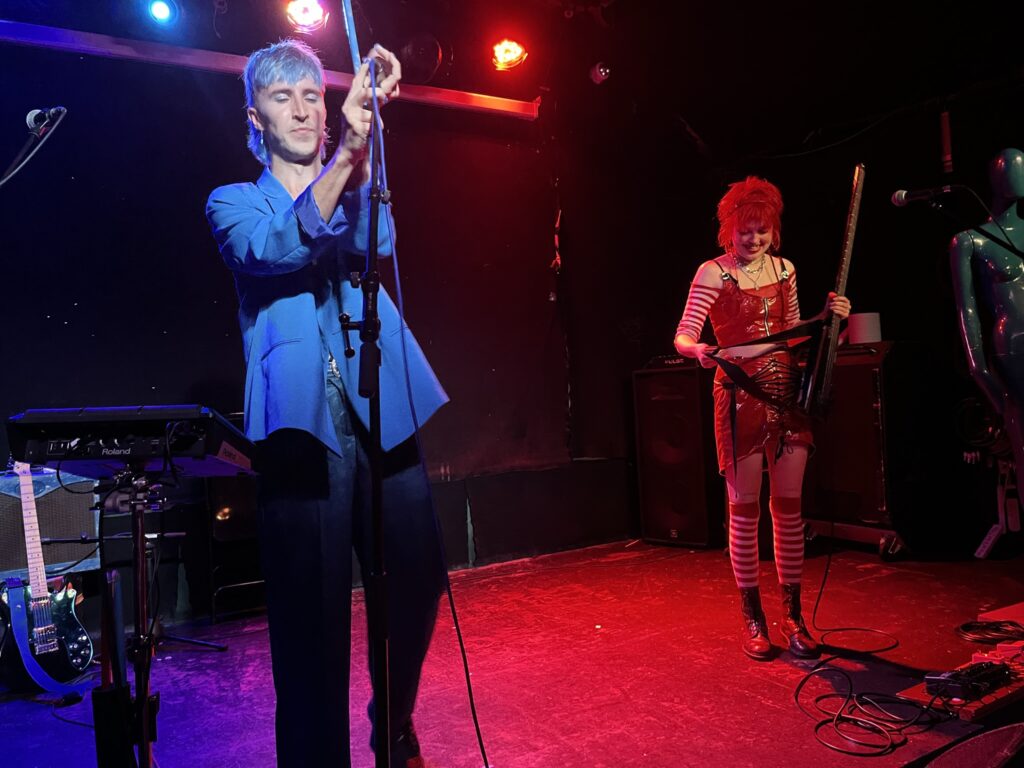 They are one of the best up and coming goth(-adjacent) acts around at the moment. The live act is fun ("we forgot to print a setlist, how unprofessional are we?") yet the songs are also poignant and touching. They handled a technical hitch (water/monitor interface accident) like seasoned pros. The tunes are ace, the Aladdin-Sane-era-Bowie-inspired look is arresting and they put on one hell of a show. Buy the whole catalogue (there is not much!) and catch them live if you can.
This Brutal Place is my favourite track of theirs, so of course I filmed it – featuring in-crowd performance and audience participation!