This was my first "proper" Return to the Batcave, but I had some idea of what to expect, having attended the special, shorter, edition in April this year. This is now my absolute favourite festival anywhwere – it's in a gorgeous city (I adore Wrocław to an "almost bought a house" degree) where I can eat my body weight in pierogis, the venue is the sort of amazing DIY punk space we don't have in the Anglosphere any more, the people are overwhelmingly friendly, and the bands are always ace!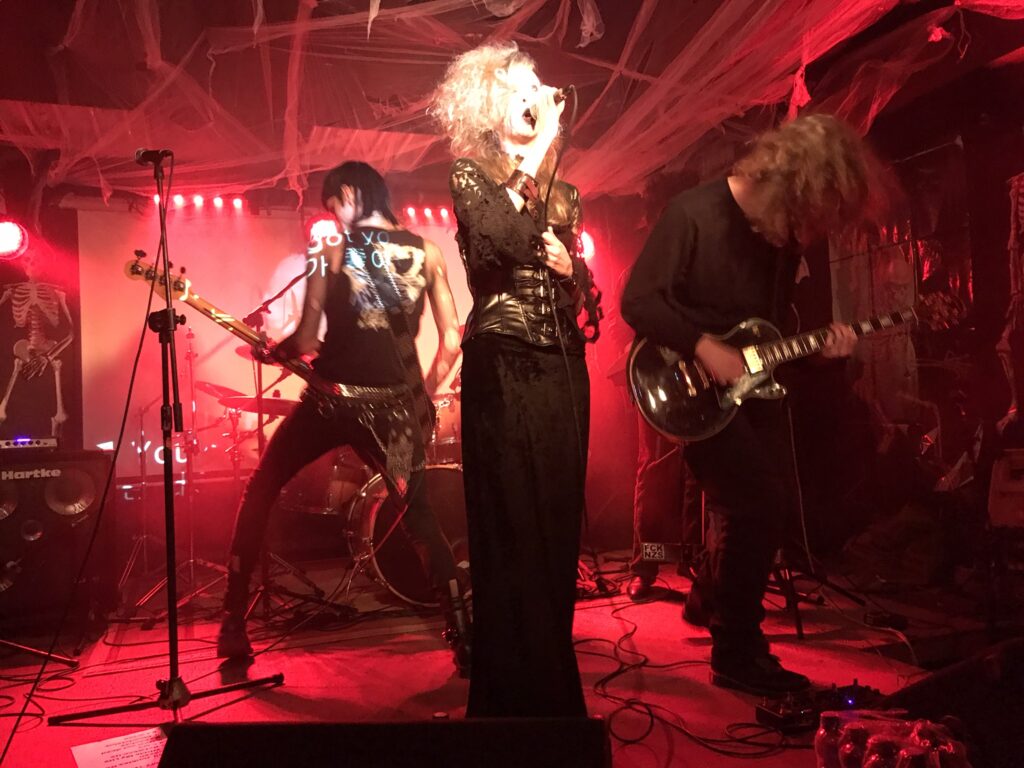 The festival got off to a brilliant start with Eat My Teeth, who are a brand new anarcho-deathrock band from Warsaw. This was their second ever live performance, but if they hadn't said, no one would have guessed. There were technical difficulties with the bass, so the guitarist filled in the time by creating a lovely multi-layered soundscape, like a seasoned pro. Natt is already a very good performer as well as singer, and the bassist has a truly impressive amount of swagger going on. The visuals includeed a lot of religious imagery (there's something about bands from traditionally Catholic countries). The songs are all good and all different –  sadly there's only one track is on Bandcamp so far, but in particular I can't wait for their opening number, All Junkies Go to Heaven, to be recorded. Definitely one to watch, and to go out of your way to see live.
Things just got better with Gentle Ropes, the first Ukrainian act of the festival. I was already familiar with the recorded output but didn't have a lot of expectations of the live performance – you might think, how interesting can one guy and a laptop be? EXTREMELY. There have been, um, some events since the EP came out. Serj put on an utterly impassioned performance, lending a completely different tone to what, recorded, is lovely post-Soviet synthwave. There is no subtlety to the imagery of appearing on stage in a blood-spattered poet shirt and its subsequent removal, nor to his speech about 400 years of Russian imperialism and genocide, which shattered my heart into tiny little pieces. I cried buckets. He also started what went on to become a theme of the festival, ie the singer performing from the dance floor. So two bands in and the bar was already set EXTREMELY high. Another act to go out of your way to see live, and definitely buy the entire recorded output.
(Some context: I grew up in the Ukrainian diaspora and also belong to an ethnic group which now only exists in the Americas thanks to Stalin, so there was a huge amount of resonance for me. And then I got talking to Ukrainians. Puts all my problems in perspective).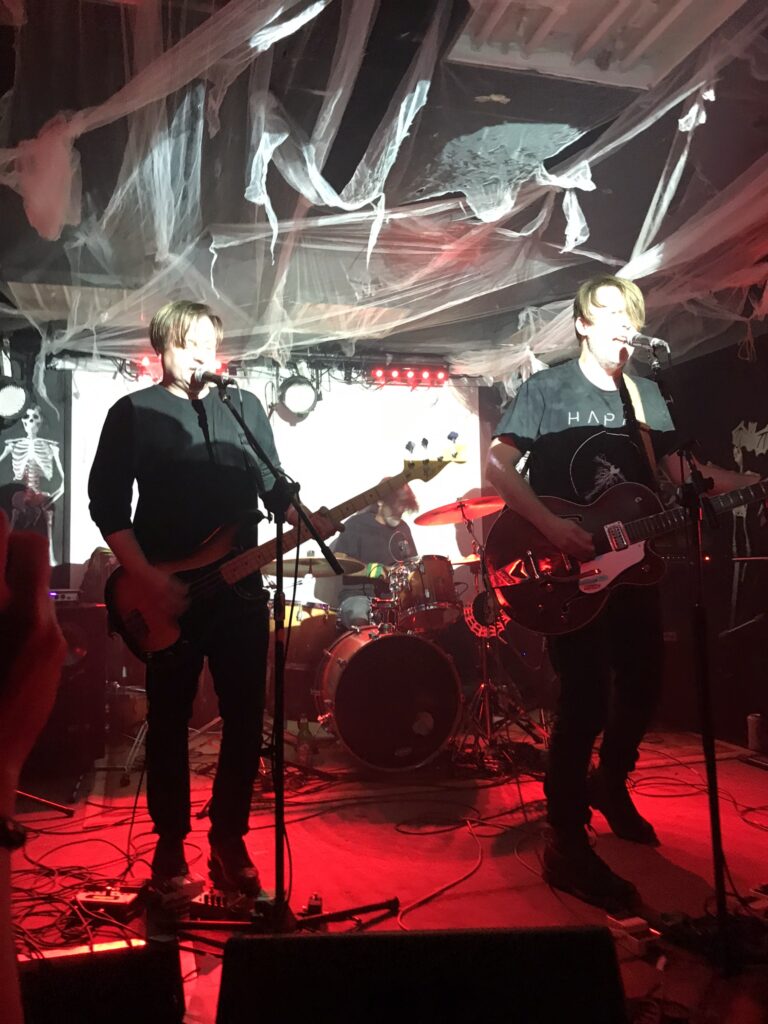 The City Gates are a guitar-based post punk/shoegaze band from Montréal (top Canadian content alert!). I only had time to listen to their material briefly before the festival, but I was really impressed by their solid, skilful, catchy tunes. They put on a top notch live performance – there was much dancing, and they provided a good follow up/contrast both in musical and content style. I suspect I didn't fully appreciate how good they were because I was still emotionally reeling from Gentle Ropes. I will defiitely see them again if I get a chance, and their entire back catalogue threw itself into my Bandcamp cart.
My notes say that at this point I was wondering just how good a festival can be anyway? It was already off the scale.
Next up were Psychoformalina. I had seen them before at the April RTTB event. They are a local Wrocław band so were guaranteed a warm welcome. They do a rock-y tribal-drumming psychedelica thing. The singer has an amazing presence, they're technically competent and everyone loves them – I heard comments like "entranced" to describe the effect they have on people. They don't do it for me, unfortunately (psychedelica is not my jam) but I can appreciate that they are great at what they do and put on an interesting show.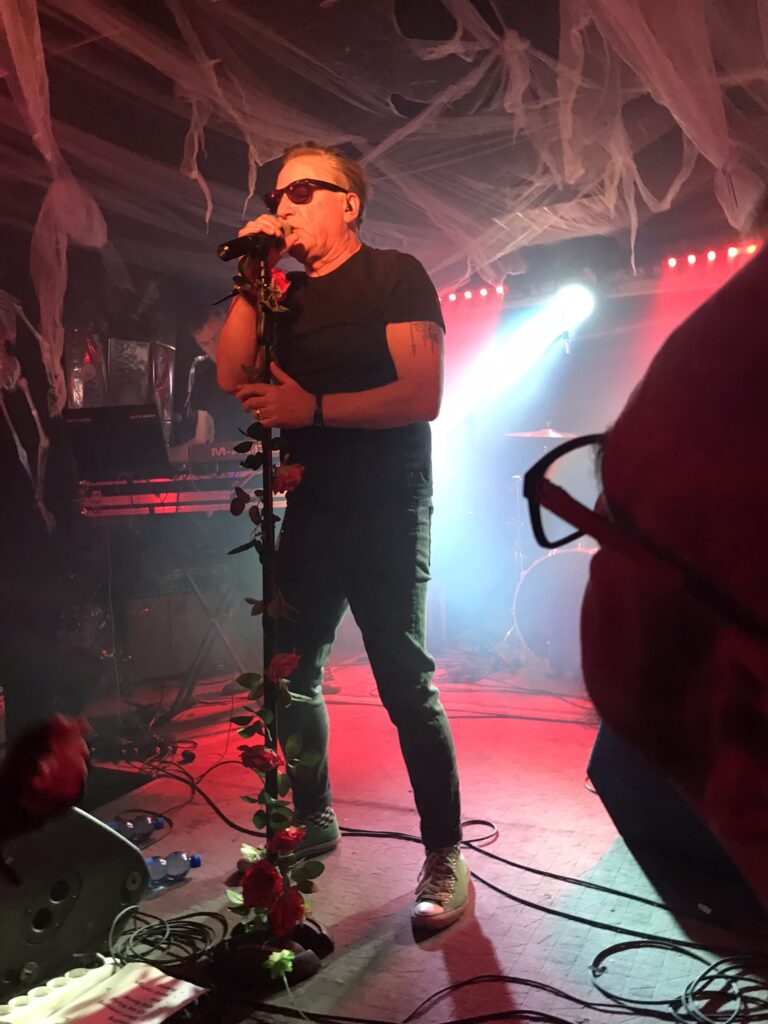 The final band for Thursday were Days of Sorrow, a band from Germany from the 80s. I'd never heard of them – perhaps they never made it to the Anglosphere, or not the corner of the Anglosphere where I lived at the time. They do a synth pop-y new wave flavoured goth – very 80s, even the new stuff. I am not convinced I'd ever listen to the albums but I had a great deal of fun dancing to their set and would see them again if they played near me.
At the end of the bands Tomasz made an announcement. As soon as it's possible, Return to the Batcave will move to Kyiv. I am 100% behind this and will move heaven and earth to be there, and indeed will provide any help that I can. I absolutely cried again.
And then, the afterparty. This was the closest yet I've come to death by Cyberpagan.